Gyatso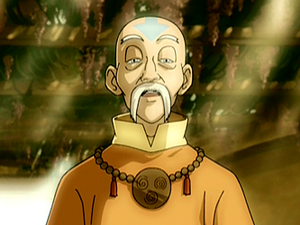 Monk Gyatso was Avatar Aang's guardian, mentor, and father figure. He is an airbender from Air Nomads and he spawns in the Air Temple.
Known Moves
Gyatso was a master airbender character and you will no longer need to use the old fighting system by pressing the J, K, L or N buttons to attack or airbend. Known attacks for Gyatso are:
Tool 3= Air Shield
Tool 4= Air Sphere
Tool 5=  Tornado Storm
Tool 6= Tornado Trap
Aside from attacks, Gyatso also has:
Tool 1= Tea
Tool 2= Air Glider
Trivia
Gyatso is the second airbender to be added in the game.